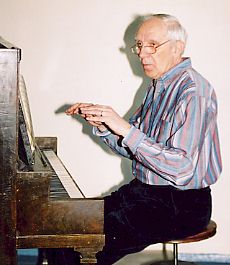 photo by Philip Stenning

SCARBOROUGH G&S SOCIETY'S
ACCOMPANIST
Stan taught himself to pick out tunes on the piano, so his parents started him on piano lessons at age six. He played in the first Kiwanis Music Festival in Toronto and won a prize. He competed in many succeeding Kiwanis as well as Hamilton and East Toronto Music Festivals, winning prizes and scholarships. He took yearly piano exams, winning highest marks in class several years. In 1946 he was awarded one of the 4 medals given in Canada by Trinity College of Music, London, England. In 1953 he was granted his piano diploma, A.T.C.L., although he was not legally entitled to use it until he turned 18 the following year.
Stan started to play for the Sunday School and the Junior Choir of St. Paul's United Church at age 10. His musical contributions to that church for over 50 years have included playing the piano and filling in on the organ periodically, plus, more recently, singing in the Senior Choir and working on the Music and Worship Committee. As a child he performed in many concerts and played for community groups at meetings, churches, benefit concerts, family parties, Home & School Associations, I.O.D.E. meetings, etc. He was often called on to play the National Anthem at gatherings.
When at Scarborough Collegiate (now R. H. King Academy) Stan helped the music director in playing for the school musicals, accompanied the Gilbert & Sullivan cast to win a performance competition medal, wrote school songs for revues, and sang in them as well. At Victoria College (University of Toronto) Stan was in the musical shows and co-wrote the book and lyrics for the annual school revues plus writing for and performing in the All Varsity Reviews. In his final year he co-wrote the complete musical show. He was in demand on campus to play for many occasions, singsongs, etc. and is still called back regularly to play the school song and other selections. He received the Honour Award in his final year.

As Head of the Classics Department, he spent his entire teaching career at David & Mary Thomson Collegiate in Scarborough. As well as the other activities he led, he had a part in every musical production at the school, playing, directing, composing, etc. He worked with many young people, some of whom (e.g. Melissa Thompson), have gone on to musical careers, but all of whom received a pleasurable exposure to music and theatre arts. In 1984 Stan won the Anson Taylor Award for his outstanding contributions to education in Scarborough. As a tribute to his exceptional career, the school auditorium was named after him.

From 1967 to 1972, Stan was recruited as the pianist for first the Ontario and then the Canadian Women's Gymnastic Team, supplying the music for their floor routines. He usually travelled only on recordings to the competitions, but in 1971 he accompanied the team to the World Championships in Yugoslavia, playing live in the arena at Llublana. He even volunteered to supply warm-up music for the Israeli team one morning when the Canadians were practising in the same facilities.

Across the years Stan has been a pianist for many groups. He was very active in the United Church AOTS Men's Club movement, writing a number of songs for their annual conferences, and accompanying their Glee Club for over a year, travelling across Canada and producing two recordings. He has also written the theme song for the Serenata Singers, a group of senior choristers at whose concerts he acts as co-accompanist. Shows that he co-wrote for the Kew Beach Bible Class in the 1960s have been produced more recently at Herongate Barn Theatre and by the Pickering-West Hill Players. He also wrote songs for the Easter pantomimes by the Scarborough Theatre Guild in the 1960s. In recent years, he and his wife, Barbara, are flown down each January to Arizona, where Stan accompanies a cabaret show featuring residents at a retirement community. In addition to co-editing a new version of the Cambridge Latin Course, he attends the annual conference of the American Classical League at a U.S. university, leading a sing-along in English and Latin, some of the Latin being his own translations.

Another long-standing commitment is his involvement for over thirty years with The Scarborough Gilbert & Sullivan Society (formerly St. Peterís Choral Society). Stan is both its rehearsal and concert pianist, often adding touches in the form of up-to-date word revisions and extended music for choreography. Many patrons enjoy his spirited rendition of the music and marvel at his ability to take a standing bow at the end of the operettas while still playing the piano.

In Stanís retirement, he has extended the summer singsongs he performs for the patients at the Scarborough Hospital General Site to twice a month all year. Hardly a week goes by without a request for his talents and, where possible, he fits them in. Such things include playing for a friendís school choir, making tapes for part singers to use for rehearsal, transposing material into comfortable keys for singing, writing a new verse for a song, playing special music for a funeral, making a tape of lullabies for a grandchild, supplying entertainment during costume changes for performances of the Scarborough Showstoppers, a championship tap-dance group that includes his wife, performing at benefit shows, accompanying other groups and choirs at galas, searching out obscure music for people, playing dinner music at banquets, entertaining at parties, leading singalongs, visiting seniorsí homes, filling in for absentee pianists, etc. The wonderful thing about all this involvement is that it is done cheerfully, capably and for the most part, for free. And this is only one part of the many activities Stan does, for he is involved extensively in other fields as well.