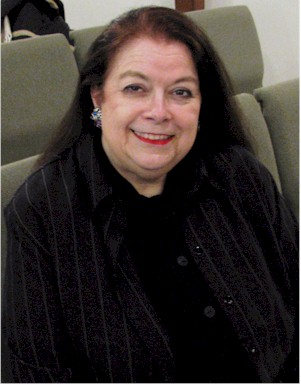 Years of classical training and performing in Montreal, including choral stints with the Montreal Symphony, Elgar Choir and Loyola Choral Society warred with a life-long devotion to Big Band and Broadway. Diane studied at École Vincent d'Indy of the Université de Montréal and the Loyola Campus of Concordia University in Montréal where she did a one-woman concert towards a degree in music.

Indulging herself with performances as Lucy in You're a Good Man, Charlie Brown (also Musical Director), Rose in Gypsy, Widow Corney in Oliver!, understudy to Marion in The Music Man, the mime Queen in Once Upon a Mattress and Nimue in Camelot she never did complete that degree! Most of those productions included turns in the chorus and entailed learning the fine art of selecting understudies, but her tour de force was as Producer, Musical Director, soloist and chorus in her own production of Cole Porter Revisited.

A joyous time was spent in the choruses of Kismet, My Fair Lady, Calamity Jane, Guys and Dolls, The Mikado, and concert versions of Joseph and the Amazing Technicolour Dreamcoat, and Godspell, the latter two of which she produced and musically directed.

The move to Toronto brought a turn as Ruth in The Pirates of Penzance, the Duchess of Plaza-Toro in The Gondoliers and more chorus in Sweeney Todd and yet another Pirates of Penzance, as well as, most recently, a pickalittle lady and Grecian urn in The Music Man.

Her latest performing experience has been with the Scarborough Choral Society in their great Christmas concert, which she will miss this year as Scarborough G&S rehearsals conflict – but she's glad to do it! Also, for some years now she have been performing in and helping to run the G&S Society Concert Group.

As a lyricist, Diane has written and performed parodies of such cult shows as Star Trek (in all it's incarnations), Beauty and the Beast (the TV show), Dr. Who and The Prisoner for science fiction conventions in Canada and the United States. She also collaborated with a local composer on a rather pretentious song which has yet to see the light of day.

As Diane's on-the-job training includes more than 40 years of church choirs (some of that directing) and community associations, be assured she comes to Scarborough G& S with a cheerful love of nearly all music, a theatrical approach to G&S, and the hope that we can create something beautiful, lively and accessible from the enduring G&S repertoire.



DIRECTORS:

Diane Sankey
Judi White
Stan Farrow

LEADS:

Ian Orr
Kirsten Rogers
Robbins Wolfe
Philip Allard
Max Craddock
Jamie Higgins

BACKSTAGE:

Chris Yalousakis