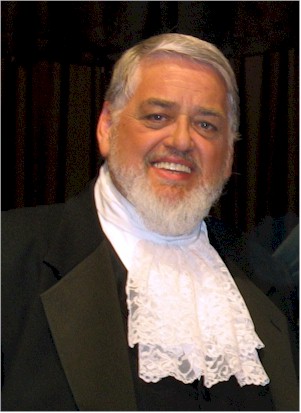 This is the twelfth year for Max to be a part of the Scarborough Gilbert and Sullivan Society. He joined the group as the Musical Director in 1998 for The Pirates of Penzance. In 1999 he directed The Mikado.

He moved onto the stage in 2000 for Iolanthe followed in 2001 by The Gondoliers where he played the role of Antonio. Since then he has played Richard Dauntless in Ruddigore, Ralph Rackstraw in HMS Pinafore, Dr. Daly in The Sorcerer, James in The Pirates of Penzance, Sir Richard Cholmondeley in The Yeomen Of The Guard, Pish-Tush in The Mikado, and Earl Tolloller in Iolanthe.

Born in South Point, Ohio, he and his wife, Cledith, came to Canada in 1961. Music has always been an important part of his life, both vocal and instrumental. In high school he was in band and choral groups. For five years he competed as a soloist and in ensemble groups at the State level. In Canada he directed the Chorus while on staff at Great Lakes Christian College in Beamsville. In Meaford he formed the Meaford Kiwanis Youth Chorus during the town's centennial, 1974, and directed the group until it disbanded in 1980. In Meaford he sang high tenor in a gospel quartet, "The King's Couriers".

He has served on the G & S Executive for eight years, currently serving his sixth year as President.

DIRECTORS:

Diane Sankey
Judi White
Stan Farrow

LEADS:

Ian Orr
Kirsten Rogers
Robbins Wolfe
Philip Allard
Max Craddock
Jamie Higgins

BACKSTAGE:

Chris Yalousakis