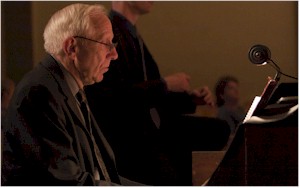 In 1972, at a school reunion for Scarborough Collegiate (now R.H.King Academy), Stan met classmate Nan Ricciardelli (now Nan Wells), who told him that she was the Director of the St. Peter's Choral Society and that the Society was looking for a new accompanist for the their annual Gilbert and Sullivan performances at the church on Brimley just below Lawrence. She invited Stan to take in their 1972 production, which just happened to be The Yeomen of the Guard, a show Stan had not seen before. Well, Stan and his wife, Barb, were quite impressed, he signed up, and he's still here!

He's accompanied four performances of Trial By Jury over the years. With Diane Sankey now on hand as the Musical Director and the imaginative stage direction of Judi White to enjoy (when he gets a chance to glance up from the piano), he's looking forward to another great adventure. He's also thrilled to have his grand-daughter, Tanya Paradowski, back to share in the overture.

Scarborough Collegiate was where Stan first encountered G. and S., when his dad (a teacher there) took him and his sister, Gwen, to the annual operettas. He helped out on the piano when he was a student there, then sang in the chorus at Victoria College, U. of T., and at the Ontario College of Education. He crossed paths with Nan again in the early 1960s, when her brother, John, invited him to accompany the annual G. and S. shows at St. Aidan's church in the Beach.

During his 35 years as a teacher (Head of the Classics Dept.) at Thomson Collegiate, Stan was always involved with the stage productions, including two G. and S. operas, also back in the early 1960s. He spent so much time in the auditorium that, on his retirement in 1994, it was named in his honour.


You can read more about Stan Farrow here.

DIRECTORS:

Diane Sankey
Judi White
Stan Farrow

LEADS:

Ian Orr
Kirsten Rogers
Robbins Wolfe
Philip Allard
Max Craddock
Jamie Higgins

BACKSTAGE:

Chris Yalousakis